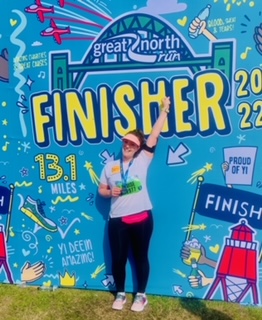 Great North Run : Sunday 11th September 2022
Louise Grayford took up an incredible personal challenge to run this 1/2 Marathon in support of The Theatrical Guild.
She trained hard and successfully completed the course in under 3hrs, which was amazing and, in the process, smashed her funding target- raising over £1000. "Well Done Louise" – you're a superstar !!!
Every penny raised will help Backstage and Front of House theatre staff, via TTG's Beneficiary Programme, and we are grateful, not only to Louise but to you all for your kind donations.
And if you want to join Louise for the GNR in 2023 – please let us know at admin@ttg.org.uk